Spanish courses in Colombia
In Colombia we offer Spanish courses in:
discount of 5% off the official school price.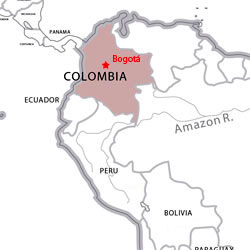 Destinations available in Colombia
Population: 6,776,009 habitants

Type: Large capital city

Climate: Warm summers , cold winters
Average annual temperature: 19°C (66.2°F)

Description: The skyline of Bogotá is very hard to compete with as the city has the dramatic backdrop of the Andes. Bogotá is often referred to as 'The Athens of South America' and the city has more schools, universities and colleges than any other Colombian city. There are fine restaurants and a vibrant, exciting nightlife.
Study Spanish in Colombia
Colombia has a unique climate because of its position. It is located on the Equator which means that the country basks in sunlight a lot of the time.
La Candelaria is an historian's playground and has numerous old houses, buildings and churches boasting the beautiful Baroque architecture which was started in Italy during the early 17th century. If you like books then you will love the Luis A?ngel Arango Library; it was founded in the year 1923 and started its life as a very small library with a handful of books. Today it is Colombia's premier library and boasts approximately 1.1 million books.
The Tayrona National Park is located in the Colombian, North Caribbean area. The park is teaming with various species of animals and birds including bats, deer, eagles and many reptiles and amphibians.
Colombia is an exciting country to study Spanish in with it being the native language and with there being so much history and culture throughout the country.