Spanish courses in Ecuador
In Ecuador we offer Spanish courses in the following cities:
Remember that when booking your Spanish course through LivingSpanish you will receive a
discount of 5% off the official school price.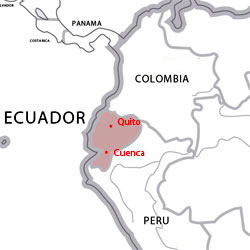 Destinations available in Ecuador
Population: 467,000 habitants

Type: Large tropical city

Climate: Cuenca enjoys a mild climate all year
Average annual temperature: 20°C (68°F)

Description: Cuenca is a big city with a friendly small town atmosphere; visitors can experience the true traditional side of life in the city by observing the workmanship of the local craftsmen in the markets. There are restaurants and quaint shops and numerous historical buildings to explore.
Population: 1,397,698 habitants

Type: Large capital city

Climate: Warm summers, mild winters
Average annual temperature: 19°C (66°F)

Description: Quito has the stunning backdrop of the Pichincha volcano to set it off and the glorious sky tram that offers its passengers the opportunity to observe the volcano at closer quarters as they climb up it. Quito has shops, restaurants, bars, museums and much more to offer.
Study Spanish in Ecuador
Studying Spanish in Ecuador
Ecuador is an incredible destination with such a diverse offering of attractions and locations to visit. This small country contains the Galapagos Islands where on first appearance visitors often think that nothing can surely survive in such a desolate place but when they start to really take notice of their surroundings they begin to observe the true beauty of the islands.
Snorkelling is one of the most popular activities where your swimming companions consist of penguins, sea lions, tropical fish and the wonderful turtles.
The Ecuadorian Andes are a spectacular sight and the Parque Nacional Podocarpus is called the 'Garden of Ecuador' due to the incredibly stunning plant life discovered there. If you are lucky you might catch a glimpse of the majestic condor as it glides effortlessly across the blue skies.
A small portion of the mysterious Amazon Rainforest sits in Ecuador and houses numerous animal species including the 30 foot long slithering anaconda snake, the spider that chooses birds for its diet and a toad that weighs 8lbs!
Ecuador is such an interesting country to visit and to study the Spanish language in, the official language is Spanish and the local people are known for their hospitality and friendliness.