Spanish courses in Dominican Republic
In the Dominican Republic we offer Spanish courses in the following cities:
discount of 5% off the official school price.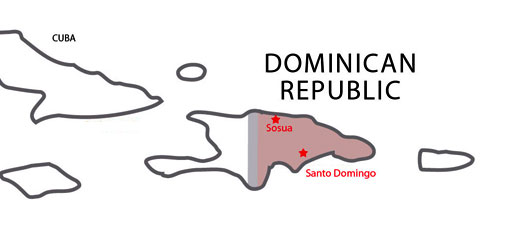 Destinations available in Dominican Republic
Population: 2,084,852 habitants

Type: Large capital city

Climate: Hot summers, warm winters
Average annual temperature: 24°C (75°F)

Description: The city of Santo Domingo is the perfect location to visit if you are searching for the true traditional Dominican city. History is brought to life in this marvellous city and couple the culture with the natural beauty of the Caribbean and you are left with Santo Domingo.
Population: 64,198 habitants

Type: Resort town

Climate: Hot summers, mild winters
Average annual temperature: 26°C (80°F)

Description: The resort town of Sosua is the ideal setting with its natural beauty and numerous shops and stores. There are several restaurants and diners adorning the town to choose from, and the nightlife is exciting and lively.
Study Spanish in Dominican Republic
The Dominican Republic is situated in the glorious setting of the Caribbean. Many hikers visit the highest peak in the Caribbean islands, Pico Duarte. There are well kept trails leading to the summit; one of the most popular ones leads from the town of La Cienega.
This particular trail is 23.1km to the actual summit and there is a convenient shelter 5km away from the top. The climb is worth the effort especially when you stand upon the summit the following morning and observe the breathtaking sunrise out over the ocean.
Samana is a typical Dominican town, laid back and relaxed. The town was actually a little known fishing village until the year 1985; this was the year that the initial whale watching expedition took place. Now each year from the middle of January through to the middle of March the North Atlantic humpback whales favour the waters of the bay for their annual breeding season. Samana is transformed from a sleepy idyllic village into a bustling town as all the tourists flock to view the whales.