Spanish courses in Cuba
In Cuba we offer Spanish courses in the following cities:
discount of 5% off the official school price.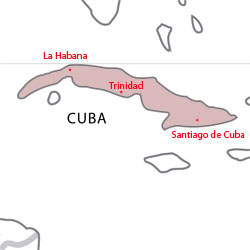 Destinations available in Cuba
Population: 2,400,300 habitants

Type: Large capital city

Climate: Hot summers, mild winters
Average annual temperature: 27° C (81°F)

Description: Havana is a delightful city full of museums and historical monuments. A visit to the city would not be complete without seeing the Partagas Cigar Factory, this is a working factory and it proves to be fascinating to visitors because the cigars are all handmade. In today's world when most products are produced by machines this factory seems like something straight from a history book.
Population: 494,337 habitants

Type: Large cultural city

Climate: Hot summers, cool winters
Average annual temperature: 29°C (84°F)

Description: Santiago del Cuba has much to offer its visitors especially if they enjoy culture and art as there are many museums and art galleries throughout the city. There are several shops and stores and the nightlife is vibrant, much of it is housed within hotels but many of them do let other people, other than their guests, enter.
Population: 73,466 habitants

Type: World Heritage city

Climate: Hot summers, cool winters
Average annual temperature: 29°C (84°F)

Description: Trinidad de Cuba is a city boasting an outstanding setting full of museums and palm tree lined sandy beaches. There are some fine restaurants to dine in and lovely markets and shops to browse around to your heart's delight. The abundant nightlife is very varied from quieter bars to lively nightclubs.
Study Spanish in Cuba
Cuba is a spectacular country to visit. It boasts approximately 400 miles of divine beaches, one of the most popular ones is Guardalavaca and it is easy to see why. This beach has a long stretch of pure white sand that gently slopes into the clear turquoise blue waters.
Havana is the country's capital city and well worth taking a guided tour around, there are art galleries, museums, shops and historical monuments to see.
Holguin houses Bahia de Naranjo where visitors can watch sea lion and dolphin displays but the real gem is for a small fee people are permitted to enter the water with the friendly dolphins. This is a chance of a lifetime for many visitors so make sure you do not forget your camera.
Cuba loves its festivals and holds several throughout the year. The resort town of Varadero hosts a delightful puppet theatre festival in March and puppeteers travel to the town from around the world to show off their puppet skills.
The country of Cuba is a wonderful setting to study Spanish in with all its culture and stunning scenery you cannot go far wrong and with Spanish being the main language spoken it can still be learnt even when you are not attending the language school.